Oh my! Fall is finally here and that means it's time for some amazing pumpkin recipes. Today, we will make my favorite Pumpkin Maple Pecan Granola. It's a quick and easy recipe that's perfect for breakfast or as a snack.
Cooking Adventures: Pumpkin Maple Pecan Granola
Ingredients:
3 cups old-fashioned rolled oats
1 cup raw pecans, roughly chopped
1 cup raw pepitas
1 cup unsweetened coconut flakes
1/4 cup coconut oil, melted
1/2 cup maple syrup
1/2 cup pumpkin puree
1 teaspoon cinnamon
1/2 teaspoon nutmeg
1/2 teaspoon salt
Instructions:
Preheat oven to 325°F. Line a large baking sheet with parchment paper.
In a large bowl, mix together oats, pecans, pepitas, and coconut flakes.
In a separate bowl, whisk together melted coconut oil, maple syrup, pumpkin puree, cinnamon, nutmeg, and salt.
Pour the wet mixture over the dry mixture and stir until everything is well combined.
Spread the mixture onto the prepared baking sheet.
Bake for 20-25 minutes, stirring halfway through, or until golden brown.
Remove from the oven and let cool on the baking sheet for 10 minutes.
Transfer the granola to a large bowl and let it cool completely.
Store in an airtight container for up to two weeks.
The granola is perfect on its own for snacking, but it can also be enjoyed with yogurt or milk. Trust me, your taste buds will thank you.
And to satisfy your sweet cravings, try these amazing Oatmeal & Chocolate Cookie Bars.
Oatmeal & Chocolate Cookie Bars
Ingredients:
1 1/2 cups all-purpose flour
1/2 teaspoon baking powder
1/4 teaspoon baking soda
1/4 teaspoon salt
1 cup (2 sticks) unsalted butter, at room temperature
1 cup light brown sugar, packed
1/2 cup granulated sugar
2 large eggs
2 teaspoons vanilla extract
2 1/2 cups old-fashioned rolled oats
2 cups semi-sweet chocolate chips
Instructions:
Preheat oven to 350°F. Grease a 9×13 inch baking pan with cooking spray.
In a medium bowl, whisk together flour, baking powder, baking soda, and salt.
In a large bowl, cream butter, brown sugar, and granulated sugar until light and fluffy.
Add eggs, one at a time, beating well after each addition.
Beat in vanilla extract.
Gradually add the dry mixture and mix until just combined.
Stir in oats and chocolate chips.
Spread the mixture evenly into the prepared pan.
Bake for 25-30 minutes, or until golden brown.
Let cool completely before cutting into bars.
These Oatmeal & Chocolate Cookie Bars are packed with flavors and perfect for any dessert table. Whether it's for a party, gathering or just a casual snack, these bars look and taste amazing.
So, what are you waiting for? Get into the kitchen and whip up these two delicious recipes!
If you are searching about Healthy + Easy Pumpkin Granola | Eating Bird Food you've visit to the right page. We have 15 Pics about Healthy + Easy Pumpkin Granola | Eating Bird Food like Healthy + Easy Pumpkin Granola | Eating Bird Food, Pumpkin Pecan Granola (Gluten-Free) – Fraiche Nutrition and also Chocolate Dipped Salted Caramel Granola Bars – A baJillian Recipes. Here it is:
Healthy + Easy Pumpkin Granola | Eating Bird Food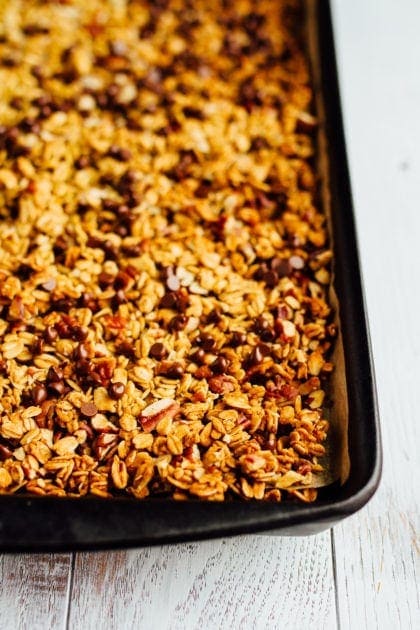 www.eatingbirdfood.com
granola eatingbirdfood pecan
The Perfect Greek Yogurt Breakfast Bowl | Hayl's Kitchen
www.haylskitchen.com
granola
Pumpkin Pecan Granola (Gluten-Free) – Fraiche Nutrition
fraichenutrition.com
granola gluten
Pumpkin Pecan Granola (Gluten-Free) – Fraiche Nutrition
fraichenutrition.com
granola gluten pecan pumpkin
18 The Most Delicious Pie Recipes – Top Dreamer
topdreamer.com
pie pies recipes rhubarb favorite delicious most list food strawberry crust dessert tarts baking wine dish peach recipe summer articles
Oatmeal & Chocolate Cookie Bars – Table For Two® By Julie Wampler
www.tablefortwoblog.com
chocolate bars oatmeal cookie recipe bar cookies tablefortwoblog so these two dessert rich delicious chip desserts table center collect julie
Pumpkin Spice Pecan Granola | Destination Delish
www.destinationdelish.com
spice pecan granola pumpkin
Chocolate Dipped Salted Caramel Granola Bars – A BaJillian Recipes
www.abajillianrecipes.com
granola bars chocolate caramel bar dipped salted abajillianrecipes
Southern Pecan Pumpkin Spice Granola…and I Made It Weight Watchers
2beesinapod.com
granola
Ripped Recipes – Chocolate Pumpkin Pie Granola
www.m.rippedrecipes.com
granola
Chocolate Dipped Salted Caramel Granola Bars – A BaJillian Recipes
www.abajillianrecipes.com
granola bars chocolate caramel salted dipped say again salty abajillianrecipes
Pumpkin Pecan Granola – A (mostly) Healthy Blog
amostlyhealthyblog.com
granola
Cooking Adventures: Pumpkin Maple Pecan Granola
www.pennysportal.com
pumpkin granola maple pecan adventures baking
No-Bake Honey Peanut Butter Granola Bars
waxingkara.com
granola honey bars peanut butter bake recipe pecan shore eastern recipes also
Chocolate Dipped Salted Caramel Granola Bars – A BaJillian Recipes
www.abajillianrecipes.com
granola dipped infused
Chocolate dipped salted caramel granola bars. Pumpkin pecan granola (gluten-free). Chocolate bars oatmeal cookie recipe bar cookies tablefortwoblog so these two dessert rich delicious chip desserts table center collect julie